Edward Maynard, (April 26, 1813 – May 4, 1891) invented many dental methods and instruments, but is most famous for his firearm inventions, specifically his breechloading mechanical system and patented tape primer device.
Approximately 5000, 1st Model Maynard Carbine/Rifles were manufactured in .35 & .50 caliber from 1858-1859. Carbines had 20" barrels while rifles had 26" barrels. Through October 1860 Maynard & Company sold about 1400 of the 5000 carbines to the civilian market, unfortunately for Maynard his patented weapon didn't share the same reputation as the Sharps Carbine.
With the election of Abraham Lincoln in November 1860 and political hostilities growing, Southern states purchased 90% of Maynard's existing inventory. Confederate purchase orders were as follows. Georgia – 650, Florida – 1000, Mississippi – 800 and smaller orders to volunteer companies in Louisiana and South Carolina.
In John D. McAulay book "Carbines of the Civil War" he states that in October 1859 the U.S. Navy conducted test firing on the Maynard carbine at the Washington Naval Yard. The test was under the direction of Commander John Dahlgren. Dr. Maynard personally fired a .50 caliber Maynard at a 3' X 6' target placed 200 yards away, Maynard fired 237 rounds without any misses. The rate was at 12 rounds a minute, another Maynard Carbine was fired 562 times before cleaning, with little black powder build up. Two of the brass cartridges were reloaded and fired 200 times and found still to be serviceable.
The newest acquisition to the Civil War Arsenal is this stunning example of a Confederate purchase range carbine. Serial number 2306 places it in the range of a Georgia purchased Carbine. The carbine is completely intact, has tight action and all of the Maynard primer mechanics work well. The adjustable rear sight is in place and it has the sling ring on the belly of the stock confirming its one the 676 "military" .50 caliber carbines Maynard had in stock after Lincoln's election.
First model Maynard's are extremely lightweight and small in nature leaving many of its critics to question its ability to withstand the rigors of war. The new Maynard is an excellent example of not just a surviving carbine but a war trophy as well. Carved into the shoulder stock forward of the patch box is "Perryville Ky. Oct. 8th 1862". My guess is that it was displayed in a G.A.R. Hall after the war.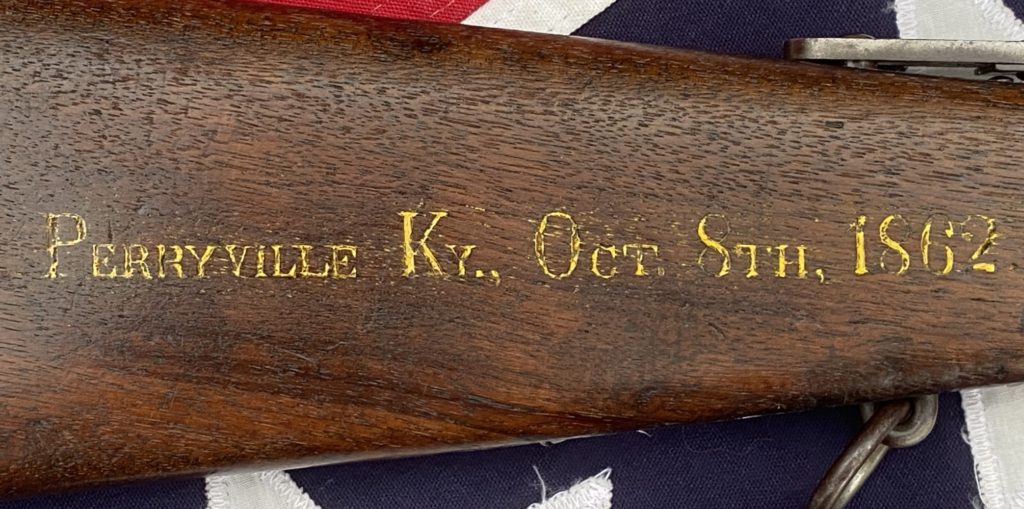 Colonel Joseph Wheeler "Fighting Joe" lead the 2nd Cavalry Brigade during the battle Perryville. Many of his cavalry troops were from Georgia…….2nd Georgia Cavalry (5 companies) lead by Major Caleb A. Whaley and Smith's Cavalry Battalion (Georgia) lead by Colonel John R. Hart. It's my belief that this carbine belonged to one of those horsemen.
If you have any questions about this weapon or any of the other items in the Civil War Arsenal Museum contact me at civilwararsenal@yahoo.com attn: Gene West.